Photos
A selection of my nicest photos is shown below. Most were taken with a Canon PowerShot 710 IS.
Interested in a larger version? Mail me which picture you would like to have, and for what purpose.



The St. Pieter in Rome




Flower in the Jardín Botánico on Tenerife




Frost




The picturesque Vrin




Bumblebee on a mountain thistle




The Zervreilasee near Vals: both in Summer...




... and in Winter it offers a spectacular sight!




The Teufelsbrücke




The breathtaking Aletsch glacier
Homemade accessories
I made a few handy accessories for my Canon PowerShot 710IS: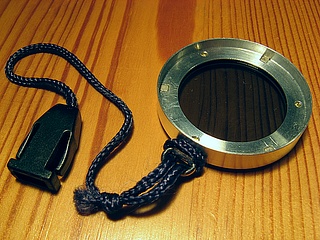 Magnetically mounted polarising filter
A polarising filter can suppress non-metallic reflections to give pictures with higher contrast and color saturation. Thus, the sky will turn deeper blue with clouds having sharper contours, or overexposed shimmers from a water surface will disappear. An interesting accessory, all the more because the effect of a polarising filter cannot just be imitated by software. Although a filter adapter does exist for my camera, it seemed rather impractical to have to mount such a tube each time. Instead I asked a machinist to make a holder for a 30.5mm circular polarising filter (HAMA), with slots for three 2×2×2mm miniature magnets (Conrad). These attract the metal ring at the front of the lens barrel strongly enough to hold the filter safely in place. Very compact and exchangeable on the fly!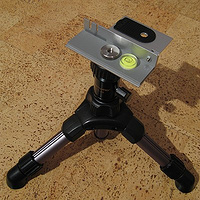 Panoramic adapter
The Canon PowerShot 710 IS features a separate mode for making panoramas, which facilitates the taking of a series of partially overlapping photos for later stitching to one complete picture on a computer (e.g., with Hugin). To avoid the occurrence of parallax due to changes in perspective, the camera should be rotated around the center of its so-called entrance pupil. In practice, that's hardly possible when shooting by hand, and therefore I decided to construct a simple tripod adapter. This tool shifts the camera over such distances backwards and to the left with respect to the tripod mount that the rotational axis of the latter goes through the no-parallax point. For my PowerShot 710 I determined this point to be located 21×26.5×32mm to the right, to the front, and above the normal tripod mounting point of the camera (for various other models, consult the Entrance pupil database). The adapter's two-piece aluminum construction allows to use it for both landscape and portrait orientation; the circular spirit level serves to bring the camera in a horizontal position. For transportation the set can be packed to 9.6×2.3×3.8cm and easily set up elsewhere.
It took quite some patience, but finally we had some fine weather over Pentecost weekend so that I could give the panorama adapter a try. It seems to perform quite OK, giving variations in pitch and roll below 1.2° for a series of 10 photos spanning over 270° – oh well, just look for yourself below! (by the way, the panorama also illustrates the fact that a polarizer filter maximally saturates the sky when viewing perpendicular to the sun).


ETH Chemistry building and Käferberg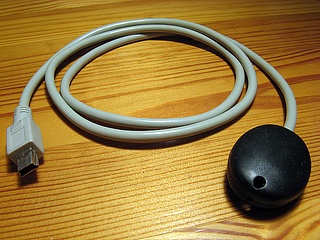 External trigger
To facilitate shooting macros and picture series for panoramas, I made an external trigger that connects to the camera's USB port. The temporary replacement firmware CHDK adds support for such a trigger; see their website for pinning details. Besides, CHDK offers lots of additional functionality, such as bracketing, CRW raw image format, motion detection, and scripting.

360° Panoramas
The famous Brusio circle viaduct, taken from a wooden model construction put up for the centennial celebration of the Rhätische Bahn

Panoramic view from the Piz Sezner, near Ilanz

Panoramic view from First, near Grindelwald
Panoramic view at Pizol

Panoramic view near Rigi Scheidegg

Panoramic view from Rapperswil
Links