Spare-Time Running
During childhood, I loved running to Primary School. But, you know how things go: Secondary School was rather in biking distance, and University was far enough by train... But since Spring 2010, I have become infected again with the running virus – not surprisingly, given the great jogging opportunities that Zürich offers. Parks and natural areas are almost literally around the corner and fountains with fresh water abound. Plus: the hilly areas offer beautiful views over the lake, with the Alps on the background (that is, when it's not too foggy). Of course, it is a great way to shake off the thoughts about science and loosen the muscles, too.
Running Events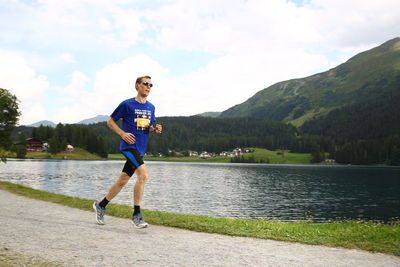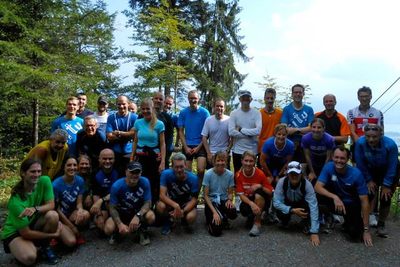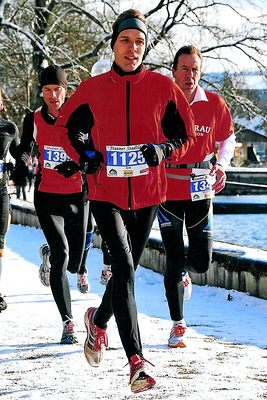 Meanwhile, I have participated in the following running events: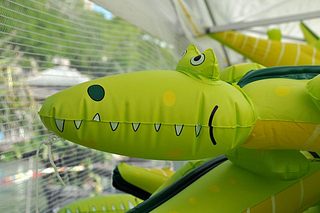 Other Sportive Events
Running Music
Here's my current playlist, specifically for running:
Artist
Song
Duration
SPM
Comment
Vangelis
I'll Find My Way Home
4:21
172
Donna Summer
State Of Independence
4:25
169.5
Vangelis' original (165 SPM) connects seamlessly to the previous song but has a less clear beat
A-ha
Take On Me
3:46
169
Eminem
Lose Yourself
5:26
171
I generally dislike rap, but this one brings me 100 hm (7.6%) up the Zürichberg:
"You can do anything you set your mind to, man"
Stevie Wonder
Part Time Lover
4:13
174.5
The Postal Service
Such Great Heights
4:26
175
Bon Jovi
Last Man Standing
4:37
175
Don Henley
The Boys Of Summer
4:46
177
Great tuneful song, perfectly bridging two rather "active" ones
Metric
Gold Guns And Girls
4:03
180
Daryl Hall & John Oates
Maneater
4:27
177.4
Ricky martin
Living La Vida Loca
4:03
178
Pointer Sisters
I'm So Excited
3:50
185
Well, who wouldn't be excited at this tempo? ;-P
John Miles
Music
5:51
Mixed
This one is good for a steep downhill part or a final sprint; varying tempo of 169-185-172-133-155 SPM
Roxette
The Look
3:56
190
Go in overdrive! Good for hillwork
VOF de Kunst
Suzanne
4:44
184.5
Herman van Veen
Hilversum III
3:52
182
Nicely light-footed Dutch song
Goldroom ft. Chela
Fifteen
5:00
178
Incites a smooth stride
Styx
Boat On The River
3:14
176
Hans de Booij
Annabel
3:35
173.5
Plushgun
Freeze The Frame
4:22
170
Pat Benatar
Love Is A Battlefield
5:23
181
Good running tempo but won't ever show up on my normal playlist ;-)
Tom Petty
Runnin' Down A Dream
4:25
170
Michael Jackson
They Don't Care About Us
4:21
180
Elton John
I'm Still Standing
3:04
177
Katy Perry
Roar
3:42
181
Ace Of Base
All That She Wants
3:29
188
Good tempo for minimal/barefoot running
OneRepublic
Good Life
4:00
190
Idem
Maroon 5
One More Night
3:39
186
Idem
Note: tempos are in "Steps per minute" (SPM), which in several cases is twice the song's tempo as determined by BPM Counter.
Running Quotes
It's the journey that matters, not the finish line.
Stadiums are for spectators. We runners have nature and that is much better. – Juha Vaatainen
You have a choice. You can throw in the towel, or you can use it to wipe the sweat off of your face. – Gatorade ad
Any idiot can run; it takes a special kind of idiot to run a marathon.
Run your own race, and: Don't look back. Something might be gaining on you. – Satchel Paige
Links